About Us
Welcome to baby keepsakes online your one-stop shop for beautiful baby gifts!
The Baby Keepsakes team have literally millions of artists and designers at our fingertips. We have selected some of the most unique baby related products and organised them for you in easy to access categories.
The Baby Keepsakes team also own and operate their own baby related stores:
My Pretty Little One - fun, bright and unique clothing and gifts for babies
Two Bubs - Twin themed clothing and gifts
Mini Monkey - for your little monkey
You can earn money by becoming an affiliate in the Cafepress affiliate program and linking to these stores. Learn more...
Our store mascot - Baldie Baby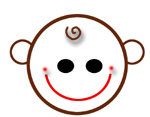 Baldie Baby is the store mascot and featured on the store logo. The baby face is based on a picture drawn by 6 year old Liam of his little baby brother.