Our designs are for personal use only and must not be reproduced to sell commercially.
What do you get?:
* Reverse design - print the design onto an iron-on transfer and put it on your own t-shirts or clothing. This works best on white clothing.

* Original design - print onto paper, stickers etc.

* Printing instructions
Click on the image for downloads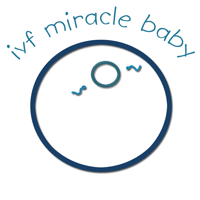 What you will need:
* A plain white kids t-shirt
* Iron on transfer inkjet paper
Instructions
Open a new Word file Insert -> Picture -> From File -> ivfmiraclebaby-flip
Resize image to fit on paper - the image is a PNG file and is lossless which means that you can make the image smaller without losing any of the detail
Print - the image is in reverse so that when you iron it on the shirt it will be facing the correct way
Cut out the design leaving a border of about 5cm/2 inches
Follow the iron-on instructions
While we take all care with these instructions - you use this transfer at your own risk.
We suggest that if you haven't used iron on transfers before that you use a cheap or old shirt as a trial!
See our sister site My Pretty Little One for some more free transfers